http://www.youtube.com/watch?v=3hb-hlme ... ata_player

The STRONGEST MASTS in the world by EZZY SAILS:

The Ezzy "Hookipa" Mast is the strongest mast in the world.

Named after the huge wave breaks that roll into the beach at Hookipa in Hawaii, these masts are built to handle extreme windsurfing conditions.

Complete masts (top and bottom sections) are supplied with a free mast bag and boom shim.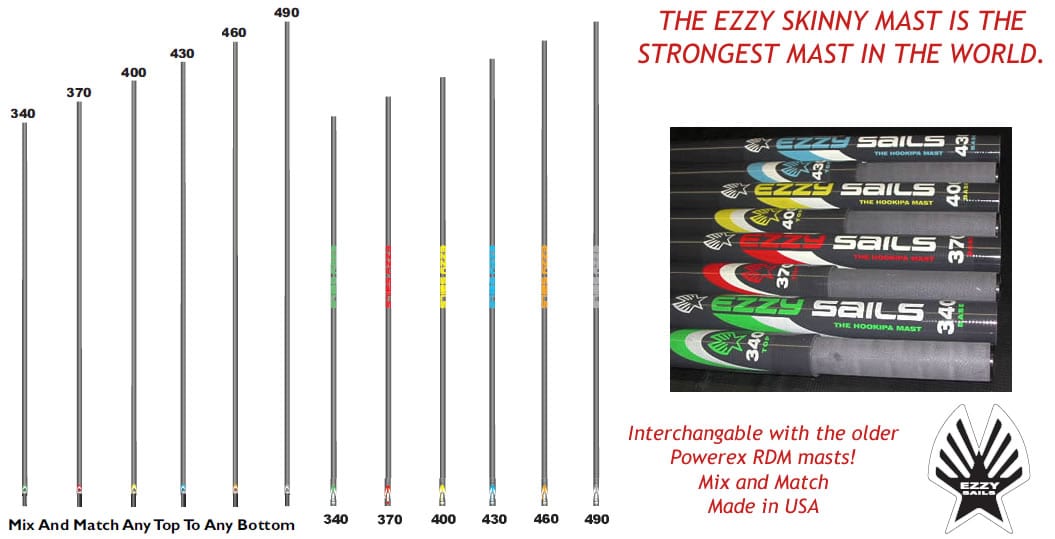 http://windsurfreview.net/en/models/Mas ... -2010.html

http://www.ezzy.com/masts/ezzy-mast-faqs/

http://www.windrider.gr/forum/viewtopic.php?t=1325

http://www.windrider.gr/forum/viewtopic.php?t=1298

http://www.windrider.gr/forum/viewtopic.php?t=1197

Model name: Hookipa mast
Manufacturer: visit manufacturer's websiteEzzy Sails
Length: 340 cm, 370 cm, 400 cm, 430 cm, 460 cm, 490 cm
Prices: €485.00, €500.00, €510.00, €520.00, €530.00, €540.00

The Ezzy "Hookipa" Mast is the strongest mast in the world. 
Named after the huge wave breaks that roll into the beach at Hookipa in Hawaii, these masts are built to handle extreme windsurfing conditions. 
Complete masts (top and bottom sections) are supplied with a free mast bag.

Features of these windsurfing masts include:
90% pre-preg carbon fiber. Pre-preg is the key to achieving a superior weight-to-strength ratio.
Superior strength through 50% extra thickness of mast walls.
Reduced Diameter Masts (RDM) provide improved handling and easier rigging.
Ezzy mast tops and bottoms are interchangeable and can be purchased individually. 
You can buy the perfect combination for your sail quiver, that means fewer masts.
Ezzy Masts work perfectly with Ezzy Sails and any other sails that specify a constant curve mast.

Manufacturer's specifications:
LENGTH
(cm) MCS IMCS WEIGHT
(kg)
340 28.2 15.4 1.57
370 26.3 17.0 1.55
400 24.3 18.4 1.7
430 25.1 21.9 1.97
460 25.5 25.5 2.20
490 26.6 30.2 2.21


Description 
The Ezzy Sails are widely tested on standard and reduced diameter masts, and work perfectly 
well, but if you are looking for the perfect blend of performance and durability for Wave, Bump 
and Jump or even Slalom conditions, the RDM mast system is is the way to go. 

David Ezzy comments, 
"It is a life altering experience the first time you use an Ezzy Skinny Mast! 
You have got to try one out!"

http://www.windrider.gr/forum/viewtopic.php?t=1298

http://www.youtube.com/watch?v=z-LnZgXk ... ata_player 

They have tested in rough conditions by Graham EZZY for your ultimate needs! 

Graham EZZY using: Ezzy sails & Ezzy masts, K4 Fins, and Chinook booms, bases, extentions, windsurfing accessories: 
all are available by 
WindRider.gr 
Xtreme Watersports Xperts & Specialists 
http://www.windrider.gr/forum/viewforum.php?f=3 

http://windswaveswarehouse.blogspot.com ... -1985.html 
http://www.windrider.gr/forum/viewtopic.php?t=1197
http://www.ezzy.com/masts/ezzy-mast-faqs/

EZZY  RDM is still one of the most dependable masts in the world. 

It is unsurpassed in quality, performance and value. 

You know that when you get rinsed by a mast high set, you are going to swim up and find your mast still in one piece! 

Being of 90% prepreg carbon construction, and its reduced diameter, this is one of the lightest and yet strongest masts on the market. 

This year they have added a Kevlar wrap around the boom area to beef it up a little and to make it that much more indestructable. 

The constant curve of the Ezzy will help broaden the range of your sail, by adding excellent twist off at the top end, and giving your sail a good belly at low end. 

This mast will help to make your complete rig much lighter and therefore more user friendly. 

These reduced diameter masts are made from 90% pre-preg carbon fiber with extra thick walls for superior strength. 

Pre-preg is the key to acheiving a superior weight-to-strength ratio. 

The fibers are pre-saturated to an exact resin-to-fiber ratio, then hand-wrapped around a mandrel, and then thermally cured.

The small diameter makes the Ezzy Skinny a dream to sail. 

You'll notice the improved handling right away in your jibes. 

Each mast comes with a mast shim that fits a standard boom.

Ezzy tops and bottoms are interchangeable. 

They are also sold individually. 

You can buy the perfect combination for your sail quiver. 

That means fewer masts. 

The general rule when mixing tops and bottoms is: choose a shorter bottom with a longer top. Use a top up to two sizes larger, or a bottom up to two sizes smaller. If you need help picking the right Ezzy mast, contact by email or phone.

David Ezzy comments, "It is a life altering experience the first time you use an Ezzy Skinny Mast! You have got to try one out!"

http://www.ezzy.com/masts/ezzy-mast-faqs/

http://www.windrider.gr/forum/viewtopic.php?t=1197

http://www.youtube.com/watch?v=3KZK3EZY ... ata_player 

WHY CHOOSE AN EZZY? 

Ezzy Does Not Do Fads. 

There is nothing unnecessary or gimmicky in our sails and in our masts!

We Are Obsessed With Quality. 

David Ezzy owns his own factory because no other factory or manufacturer in the world is able to meet the demands for quality. 

The Ezzy factory was built with the sole purpose of creating the highest quality sails in the world. 

Customer Service. 

Anyone that emails us will get an answer right away, or within a few hours will receive customer support and rigging help. 

GET THE BEST EVER IN THE WORLD or nothing.... 

ULTRA TESTED in ULTRA CONDITIONS with ULTRA PERFORMANCE... 

ΔΕΣ ΤΟ VIDEO:

http://vimeo.com/64776637

Graham EZZY crashes hard on a HOOKIPA off-the-lip on his Panther Elite and on his EZZY mast!
"NOTHING BRAKES"!!!
Because is our UNIQUE IN THE WORLD: 
UNPARALLELED EZZY SAILS & MASTS HANDCRAFTED QUALITY!!!

EZZY Sails and Masts for Greece and Cyprus:
WindRider.gr
Xtreme Watersports Xperts & Specialists
Panagiotis Arnokouros
Kiprion Iroon 69
Kato Ilioupoli
16341 Athens
Greece
Tel.: +30 2109954992
Fax: +30 2109954899
e-mail: windrider@windrider.gr
e-mail: windridrster@gmail.com
Web: www.windrider.gr
Info: http://www.windrider.gr/forum/viewforum.php?f=3
Βlog: http://windswaveswarehouse.blogspot.com ... -1985.html